What is an umbilical hernia?
An umbilical hernia is a bulge at your child's belly button. This arises when the opening for the umbilical cord doesn't close completely after birth. This hole allows intestines (bowel) to move in and out causing a small bulge. The hernia may be larger in size if the baby cries, coughs, or strains and may disappear completely if they are lying down.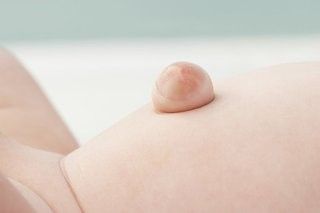 Is an operation required for an umbilical hernia?
Most children will not require an operation and often the hernia will resolve itself in the first couple of years of life. However, if the hernia is particularly large or if the hernia is still present when the child reaches age 3 or 4 they may require an operation to repair it.
What do I do if I notice an umbilical hernia?
If your child is under 3 and you notice an umbilical hernia, no action may be required. If they are feeding well, opening their bowels and have no pain over the lump, you can just monitor it at home.
If your child is over 3 and you notice an umbilical hernia, but they are well, feeding well, with no pain over the hernia, arrange an appointment to see your GP. They will refer you to see the Paediatric Surgical team in clinic.
When should I worry:
If there are any changes to the colour of the skin over the hernia, or it becomes painful, your child is vomiting and not feeding well, seek urgent medical attention in a child of any age. In this case the bowel may have been stuck in the hernia which may require an urgent operation. This is extremely rare. Take a look at the red, amber and green sections below.