Crying and settling
Infant crying is normal and it will stop! Babies start to cry more frequently from around 2 weeks of age.
If the crying baby is also:
pale, mottled or abnormally cold to touch
stiff for a prolonged period or has rhythmic, jerky movements of arms or legs that does not stop when you touch it (a fit / seizure)
extremely agitated (crying inconsolably despite distraction and normal cares)
floppy or very lethargic (difficult to wake)
going blue around the lips/tongue or trunk or has difficulty breathing
OR
baby has a rash that does not disappear with pressutre (advise to try the glass test if unsure)
You need urgent help.
Go to the nearest Hospital Emergency (A&E) Department or phone 999
If baby has any of the following:
has a temperature above 38°C / 100.4° F
becoming increasingly sleepy and not consistently waking for feeds
no wet nappies in the last 8 hours
has a dry mouth or sunked fontanelle (soft spot on the head)
is getting worse or you are worried)
You need to call your Midwife or postnatal coordinator for advice and support. Or call your GP / NHS 111 - dial 111.
ICON
Crying behaviours peak from 2 weeks to 4 months of age. This is a normal developmental process and is unrelated to the diagnosis of 'colic' or 'wind'.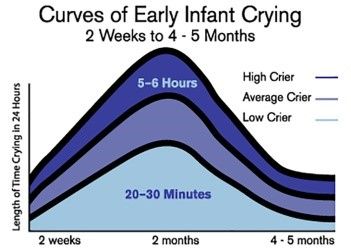 Why baby's might cry?
Baby may be unsettled due to:
hunger
dirty nappy
tiredness
wanting a cuddle / reassurance
abdominal wind
feeling to hot or too cold
Advice for parents:
try different winding positions
skin to skin contact
rocking / singing or music
a warm bath (after the first week)
going for a walk or short drive (do not encourage long periods in a car seat)
Click here to watch a video from ICON on ways to cope.
Click here to watch a video from ICON made specifically to cover way to cope during the COVID-19 lockdown.