Acute paediatric community nursing team referral/advice
Children's Home Acute Team (CHAT) - North Hampshire CCG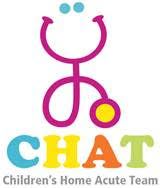 Hours:
0800 - 2000 Monday - Friday
Telephone:
07785283846
Pathways:
• Viral URTI
• Chest infection
• Gastroenteritis
• Croup
• Bronchiolitis
• Tonsillitis
• Suspected/Positive COVID-19
Referrals:
Currently the following practices with North Hants CCG can refer to CHAT:
Beggarwood Surgery
Chineham Medical Practice
Bermuda & Marlow
Bramblys Grange and Rooksdown Medical Centre
Clift Surgery
Crown Heights
Tadley Medical Partnership
Referrals can also be made directly from ED and North Hampshire Urgent Care (Hantsdoc Out of Hours GP)
Referral Form (click to open/download) to: 01256 313422
Download the info leaflet here
Children's Outreach Assessment and Support Team (COAST) - Portsmouth / SE Hants / Fareham & Gosport
Children's Outreach Assessment & Support Team (COAST) – Integrated Community Children's Nursing Service (ICCNS)
Information for parents and carers
Who are we?
The Childrens Outreach, Assessment and Support Team (COAST) are a team of experienced children's nurses who work as part of the integrated Children's Community Service (iCCN) service for the Solent NHS Trust.
What we do?
COAST aims to help children avoid hospital admission and where possible support recovery from an illness in their own homes.
Conditions covered:
1. Viral Induced wheeze
2. Exacerbation of asthma
3. Chest infection
4. Bronchiolitis
5. Gastroenteritis
6. Tonsillitis
COAST is not an emergency service
Once the referral has been received from the GP, a COAST nurse will aim to make contact with you within 2 hours.
Following the telephone assessment, a plan of care will be agreed with you. The decision to visit your child will depend on the outcome of the COAST nurse's assessment, the concerns of the referring Doctor and your concerns as a parent.
Home visits are not always required, and telephone support is always offered to families whilst they are on the caseload, which could be for a period of 2-5 days (depending on referral day).
During a home visit COAST nurse will assess your child and perform baseline observations including temperature, breathing, oxygen levels and heart rate. Following our assessment, we will discuss how you feel your child is and offer support and advice to promote your child's recovery.
If the nurse is concerned your child is not improving / recovering as expected they may discuss the next step with the hospital team to agree the best way to manage your child's care.
What are COAST working hours?
COAST is open 10am – 8pm Monday to Sunday (except Christmas day).
If your child becomes unwell outside of COAST working hours you need to contact NHS 111
IN AN EMERGENCY PLEASE DIAL 999
How do you contact COAST?
Please call 07795237584 to speak with a COAST nurse.
Professional line (Referrals): 07990 805 317 ()
Referral email: snhs.coastportsmouth@nhs.net
Supporting most GPs in Portsmouth, SE Hants and Fareham & Gosport (click the area for a list of GP surgeries covered by COAST)
GP Referral Pathway(click to open/download)
Referral Form (click to open/download)
General information email: snhs.coastportsmouth@nhs.net
Modern Matron Nicky Packham: Email: nicky.packham@solent.nhs.uk or Telephone: 07778 670 594